Raw

Honey
All of our raw honey is hand poured in small batches and contains 100% natural raw honey, made by honey bees, in a resealable and reusable glass jar.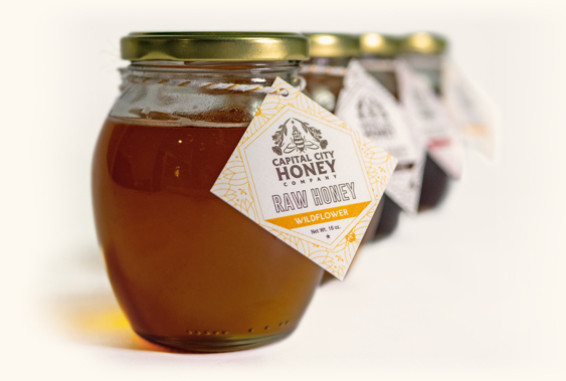 Honeycomb is completely edible and looks amazing on a cheeseboard! For an added kick, try our raw honey infused with spicy organic red pepper! And, our roasted Georgia pecans in raw honey is a healthy and delectable treat!
Raw honey is far more than just a natural sweetener. It's one of nature's purest foods with amazing health benefits. Raw honey contains amino acids, minerals, vitamins, and enzymes. 
By not heating our honey any higher than the natural temperature of the hive and not over-filtering, our raw honey remains unrefined and closer to nature. Raw honey tends to be opaque rather than the clear, golden color achieved through heating. 

Genuine raw honey crystallizes naturally. Crystallization happens to almost all honey varieties and can easily be fixed by dipping the glass jar in a warm (not hot) water bath and giving it a stir.
   Raw honey suggestions:

Wildflower raw honey pairs well with breads, nuts, cheeses, and fruits - especially drizzled on grilled peaches & bruleed grapefruit - as well as mixed in homemade salad dressings or yogurt parfaits


Honeycomb is not only a beautiful work of art made by honey bees, but also entirely edible, rich in carbohydrates and full of antioxidants

Spicy raw honey is delicious in a detox tea, or on cheese biscuits, cornbread, pizza, and even roasted brussel sprouts!

Pecans swirled over ice cream, oatmeal or yogurt, topped on waffles or pancakes, served with ricotta or blue cheese, drizzled on baked brie, spooned over banana bread or grilled fruit, and, of course, enjoyed straight from the jar is a perfect sweet treat!
Beeswax

Candles
All of our beeswax candles are hand poured in small batches, contain 100% natural beeswax in a resealable and reusable can, and provide 40+ hours of burn time.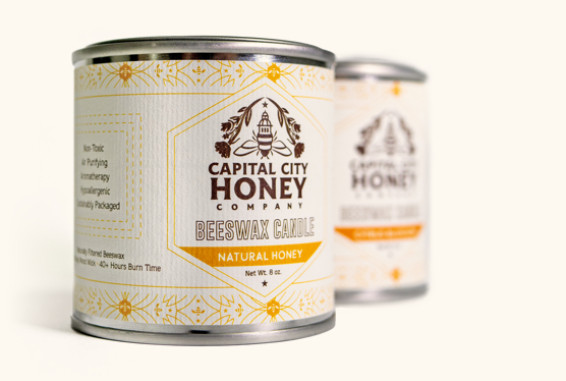 Our candles are made from pure filtered beeswax with a clean burning wood wick. Natural Honey has a light sweet aroma found naturally in beeswax. Citrus Blossom has bright citrus notes and our seasonal scent, Evergreen, has a freshly cut Christmas tree aroma - both made with pure essential oils.
Beeswax is made in the hive by honey bees and has a beautiful naturally sweet smell (since beeswax picks up the honey and nectar scents found in honeycomb).

Like air purifiers, beeswax candles release negative ions that neutralize air pollutant particles. Negative ions clear the air of mold spores, pollen, dander, odors, germs, dust, and other nasty particles. (Most of these are high in positively charged particles, and in the atomic world, opposites attract.)

While burning, our beeswax candles emit the same light spectrum as the sun, providing a comforting ambiance. Beeswax candles last longer because they have a high melting point (highest of any wax).
   Benefits of regularly burning beeswax candles:
Increases sense of well-being and mental clarity, often called a natural anti-depressant


Improves breathing rate, decreases blood pressure, and relieves tension

Helps you sleep better by normalizing serotonin in the brain


Reduces headaches


Non-toxic and hypoallergenic aromatherapy
Whipped

Honey
Our 100% pure whipped raw honey is created by blending fine honey crystals into liquid honey and then placing it in cool storage to promote rapid granulation.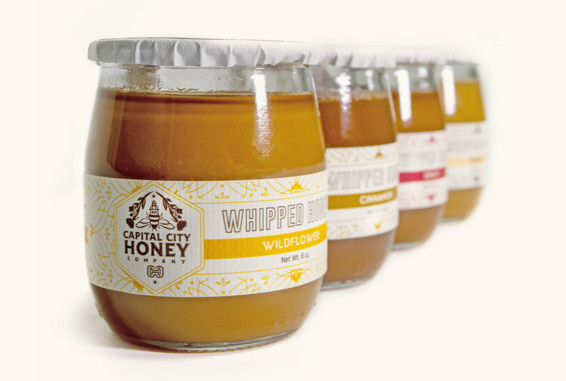 Try one or all of our delicious flavored whipped honeys made with organic red pepper, organic cinnamon, organic vanilla, organic pumpkin spice, and organic cacao!
Depending on what part of the world you're from, whipped honey is also called creamed, churned, hard, spun, or set honey.

Whipped honey has a smooth, delicate, and delicious consistency that is perfect as a spread - it is also less messy! Our process produces a small crystal structure, which gives a smooth, thick texture. 
Whipped honey may be kept in the refrigerator if you prefer the texture to be firm, or at room temperature if you would like your honey to be soft and easy to spread. 
   Whipped honey is delicious:
As a sweetener in coffee, tea, smoothies, and baking

On a healthy snackie plate of bananas, honeydew, apples, pretzels, and popcorn

Spread on toast, crackers, bagels, muffins, and other indulgent treats like a peanut butter sandwich or Nilla wafers

Slathered over hot oatmeal, pancakes, or waffles

Mixed with mustard to make a tasty homemade honey mustard sauce
Our Story
Welcome! I'm an urban apiarist and the founder of 'Capital City Honey Company' in Tallahassee, Florida. For decades I honed my hive management skills in Florida's political and legislative arenas as well as a national non-profit, Kidz1stFund.

Blessed with my personal colony of two children, a husband, and scores of backyard honey bees, today I'm on a mission to become a Honey Bee Ambassador - inspiring new beekeepers and sharing my passion for local bee-made products!
From our HIVE to your HOME, I hope you enjoy all of our local, artisan creations. And, if you need something unique like custom curated gift baskets, corporate gift boxes, hostess gifts or wedding favors, just give us a buzz!
What is raw honey?
Raw honey is natural, unpasteurized honey. Our raw honey is never exposed to high temperatures, which not only harms the delicate floral aroma of honey, but also destroys the amino acids and essential enzymes. Our honey is simply extracted and run through a fine sieve to remove foreign particles such as bee parts, large pollen bits, and chunks of beeswax. Raw honey retains all original pollen, enzymes, propolis, vitamins, amino acids, minerals, and antioxidants naturally found in the hive.
Why is raw honey so beneficial?
The potential health benefits of raw honey are many due to its nutrient rich content and anti-microbial, anti-inflammatory, and antihistamine properties. Health professionals suggest raw honey made from the nectar of local wildflowers can reduce seasonal allergies -- boosting the immune system and acting much like an immunization by building up antibodies to allergens and pollen.
What is wildflower honey?
Wildflower honey, also known as polyfloral honey, is made by bees that have collected nectar from a wide variety of local flowers and blossoms. The color, aroma, and flavor vary from season to season, depending on which wildflowers are in bloom at the time the nectar is collected.
Has my cloudy, crunchy, crystallized honey gone bad? (Um, absolutely not!)
All is well - Don't fret! Crystallization is a telltale sign that the honey you bought is of high quality. Crystals like to form on teeny particles of pollen, beeswax, and propolis - all the healthy bits - remaining in raw honey that's not overly filtered. Crystallization happens to almost all raw honey varieties and can easily be fixed by setting your glass jar in a warm (not hot) water bath for a few minutes and giving it a stir. Good as new!
And just so you know, our whipped honey IS crystallized honey. We simply encourage the crystallization process along by using a temperature-controlled environment to form smooth crystals rather than jagged, sharp ones. This makes for a creamy, spreadable honey that you can't get enough of! Store whipped honey in your pantry or on the counter, if you like a soft spread. Place it in the fridge for a firmer consistency. But beware: if whipped honey is left out by a warm window or stove, it will separate. Just stir it up, pop it in the icebox for a bit, and you are good to go.
How do I properly burn my beeswax candle?
Capital City Honey Company beeswax candles, if taken care of properly, have 40+ hours of burn time. Now, I'm sure you are wondering how to "properly" burn a beeswax candle so here goes...
Trim your beeswax candle's wood wick to less than .25 inches and any burned bits should be evenly trimmed off the wood wick. You want your candle to burn uniformly across the entire top creating a wax pool that extends from edge to edge. Important: make sure you initially burn your candle can for at least 3 hours, or one hour for each inch in diameter. Also, drafts are not your candle's friend so turn your fans off while burning.
Because beeswax has a higher melting point than other waxes, it emits the brightest, most warm-toned flame. And, beeswax candles last longer too. Beeswax is dense which makes it burn slower and drip less. Bonus! Another bonus is when beeswax candles burn, they clean the air like a natural air purifier. Beeswax produces negative ions when burned. These negative ions attach to positive ions (like dust, pollen, mold, odor, toxins) floating in the air and in this process cleans the air.
Would you like to be the first to know when our "Harvesting Soon!" products become available for purchase again?
Great! Simply click "Buzz Us" at the top of our website and send us a message. Let us know which products (please include flavor or scent) you desire and we'll be happy to add you to our waitlist. You'll receive a notification via email as soon as the next batch is available.
Are you passionate about Purposeful Packaging and Resourceful Reuse?
We strive to use natural materials, even in our packaging and gift-wrapping, like glass, metal and paper. There's a purpose to our packaging - no plastics here!
We also encourage reusing and recycling of all our containers. Get resourceful! Why not turn your beeswax candle can into a flowerpot for an adorable bee-friendly flower garden? Reuse your whipped honey pot as a bud vase, votive holder, or condiment container. The creative options are endless!
We will eagerly exchange our empty cans or jars for new ones, and even throw in a sweet discount for your service!